Istanbul, April 17-20, 2008
We expected beautiful mosques and priceless treasures; anyone who has seen photographs of the city would. But the tulips surprised us. There were tulips everywhere: tulips originated in Turkey; the Dutch got them from here! And now the Turks are bringing them back to Istanbul in all their glorious varieties in settings both formal and informal.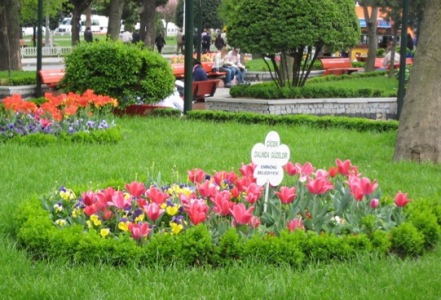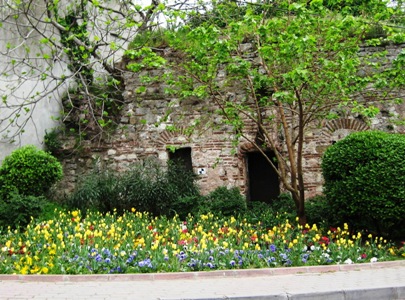 Vehicles, pedestrians, street vendors, cafés, and cats share sidewalks and streets with a degree of tolerance that borders on (and falls only just shy of) chaos. Follow this link for more about cats. There are generally not enough sidewalks. Also, in places there are definitely too many people. Istanbul is a city of some thirteen million people, and on the sunny Sunday afternoon we visited Topkapi, fully half the city's residents were there, too. The other half of them were all crowded into a pedestrian underpass less than a block long built under a busy traffic rotary. The underpass was lined with tiny shops whose signs screamed: SWEATSHIRTS--5 YTL! MEN'S SHIRTS--18 YTL! It was impossible to walk without having to push through people, an unyielding sea far denser than water.
Antiquities
The antiquities of Istanbul are not generally as, well, antique as the ones across the Bosporus in Asia. But they are astonishing. The following two links lead to pictures of Topkapi and the mosques. Below you will also see pictures of the ancient cistern. Follow this link for pictures of Topkapi.
Follow this link for pictures of the Blue Mosque and Hagia Sophia.
The cistern
Dating from Byzantine times, the ancient cistern of Istanbul is an eerie, dark, magnificent space that could be a setting for some fantastic Gothic tale of horror.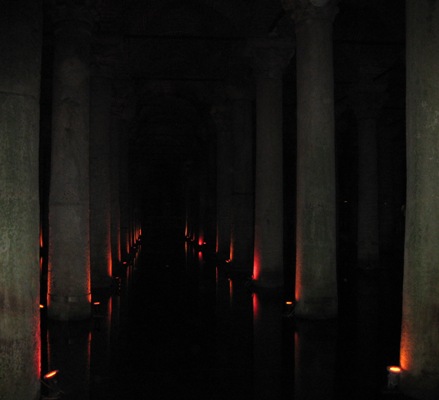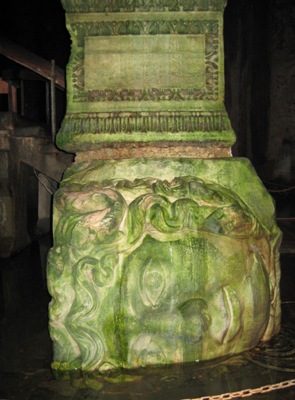 Notice that the heads on the bases of the columns, set sideways and upside down (for reasons lost in antiquity) are actually Medusas.
Markets
The markets of Istanbul are amazing. We visited the Spice Market by chance on our first afternoon in town.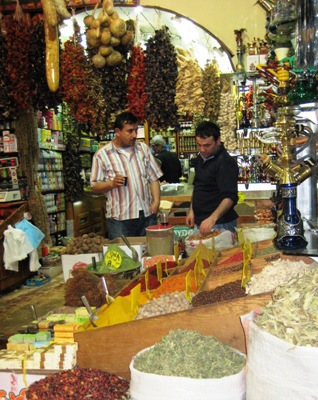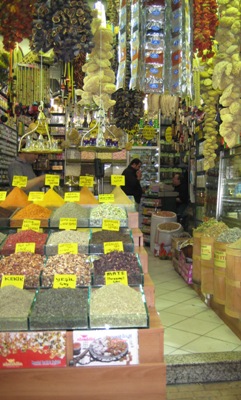 Here we learned that anything can be dried: figs, peppers, apricots, okra, eggplant, tomatoes, apples, mulberries, and more. And it can all be made into ristras. A ristra of dried eggplant is actually quite beautiful. People sell them, and so presumably people buy them. But do people actually eat them? There is also a market near the Blue Mosque.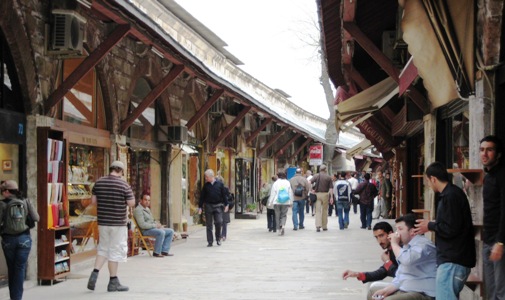 Its beautifully curved buildings were once stables for Ottoman nobility visiting the mosque.
The Grand Bazaar
Follow this link for a description and pictures of the Grand Bazaar.
Istiklal Caddesi
In the newer (19th C) part of European Istanbul north of the Golden Horn, Istiklal Caddesi (Independence Avenue) runs downhill from the central Taksim Square. This blocks-long crowded pedestrian thoroughfare is fronted by all the chain shops you've ever heard of and many more besides, as well as restaurants, cafés and parks.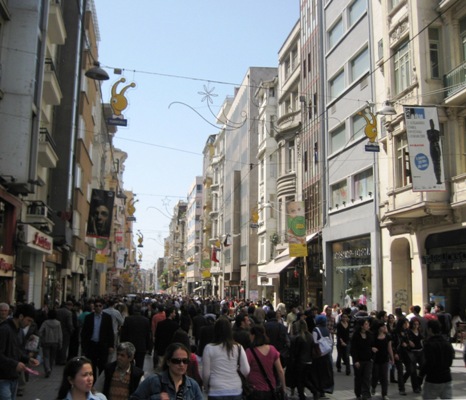 As we walked down the street, we began to hear distant shouting. This grew louder and louder, until we became aware of police around everywhere. And then an angry, chanting, shouting demonstration with flags and placards and slogans came marching up the street toward us. The demonstrators were so numerous that we and other tourists and shoppers had to take refuge in doorways and shops to avoid being pushed or trampled. All the signs were in Turkish (of course). We had no idea what it was all about.

Click here to see an interactive map of our trip
Follow this link to come with us across the Dardanelles to Troy