Shwe Inbin is a remarkably well preserved teak monastery structure. It was built in 1895 by a Chinese orphan who worked himself up from an poverty to become a rich and powerful merchant, married to one of the king's daughters, if I recall the tale correctly. Long used as a monastery, it is now being preserved as an historically significant structure; monks from the still-active monastery buildings that surround Shwe Inbin still act as caretakers.
And perhaps the mango trees on the grounds, dropping their near-ripe fruit like cannonballs on the unwary visitor, are also doing their part as caretakers.
The carvings that adorn the teak building, in the traditional Burmese style, are gorgeous. So is the building as a whole.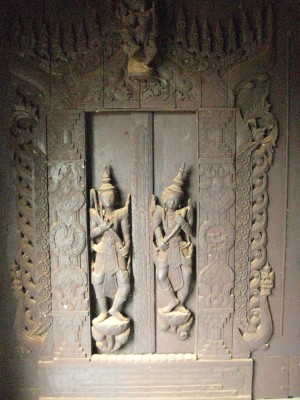 Inside, the teak carvings are also lovely, and the sanctuary contains two gold Buddhas. I don't know why, but I find these Buddhas tasteful and restrained, despite their being gold. Maybe I am developing gold-tolerance, needing higher and higher doses before it sets off my "excessive!" button.
As we were leaving, we came across the guardian monks, hard at work in their caretaking duties.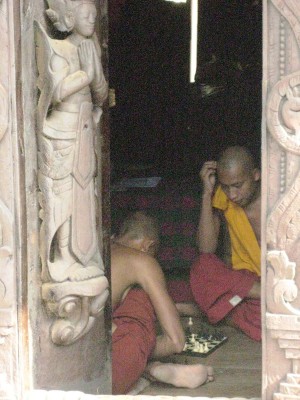 After seeing this monastery (and surviving the attack of the guardian mango trees once again), we had yet another delicious Burmese dinner and got ready for our early morning flight the next day to Inle Lake.
Tags: Buddha, Buddhist, Burma, Mandalay, monastery, monks, Myanmar, Shwe Inbin