We had done no research on Recoleta Cemetery–no knowledge of what famous people might be buried there–but friends who had visited there recently said not to miss it. And we had an image of what a cemetery not to be missed would be like. After all, we have such a cemetery here in the Boston area: Mt. Auburn Cemetery in Cambridge and Watertown, MA. Beautiful Mt. Auburn Cemetery, an oasis of peace embedded within a busy urban setting, its landmark tombs scattered widely among what must be one of the most beautiful garden landscapes in America.
Yes, we were definitely looking forward to seeing Recoleta Cemetery, an oasis of tranquility (as we imagined) in the bustling urban environment.
We should have been prepared, but we weren't. It was as if having seen, let's say, Block Island, we next went to see Manhattan Island with the idea that it might evince similar rural beauty and tranquility.
Imagine our surprise as we entered the gate to the city of the dead in the midst of the living city, far less green than the great city around it, its maze of shrunken streets crowded with mausoleums.
Strange and wonderful features abounded. Mausoleums topped with crosses and domes, and ornamented with wrought iron fences and elaborate doors. Round mausoleums and domed. Mausoleums open to reveal stained glass and statues within.
Statues of angels and humans everywhere reflected pensively on human mortality.
After wandering dizzily in the cemetery for a while, we were as lost as Hansel and Gretel in the great forest, all our bread crumbs eaten by the birds. Even Dan, with his near-infallible sense of direction, had no idea which way was out. And this view (downloaded from the Internet) may explain how this could happen.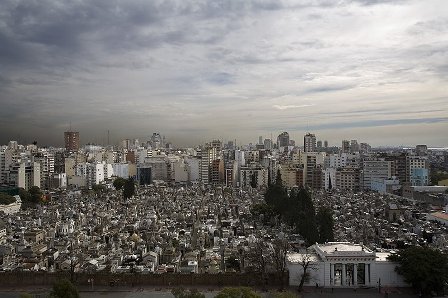 One last note, just in case you were wondering: We did eventually get out.  :-)