It seems fitting to finish this (long) series of posts on our trip to central Europe with a theme that emerged and to our surprise persisted through the entire trip: the search for the most beautiful coffee house.
You may remember that this search began with an exploration of the Art Nouveau cafes in Prague. And then continued with the discovery of the delightful Cafe Central in Vienna. And so now, behold, I am pleased to share with you the magnificent New York Cafe in Budapest.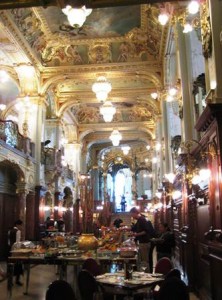 The name comes from the name of the building: It was originally the New York Life Insurance Company's Budapest office.
Now it is owned by the luxurious Boscolo Budapest Hotel, which has restored the building to its original splendor.
Here are some more pictures of the interior.